Yep, it's Earth Day. That means all of the big national brands will be giving out tote bags or planting trees… doing some kind of one-off for a slice of the Earth Day buzz pie.
As we scan the headlines to see what Coca-Cola and Target are up to this Earth Day, we tend to forget that making a difference starts at a local level – with you and me. So in honor of Earth Day, I've decided to use this morning's Buzz Bin post to highlight a few creative and fun grassroots initiatives that are inspiring local communities to take care of their world.
Las Cruces Reuse & Recycle Fashion Show –  In Las Cruces, New Mexico, the chamber of commerce teamed up with local businesses to host the Reuse & Recycle fashion show, which asked attendees to judge the best of two categories: reuse outfits  (garments made from old clothing) and recycle outfits (garments made from recyclable or non-recyclable materials). The entrants paraded for a cheering crowd, and the best of both categories were awarded prizes and bragging-rights… until next year.
San Francisco Naked Bike Ride – Only in San Francisco… right? Hundreds of San Franciscans joined the World Naked Bike Ride, a demonstration against fossil fuel dependence whose slogan is, "Less gas, more ass." The tone remained light hearted as barely-clad bikers hit the streets.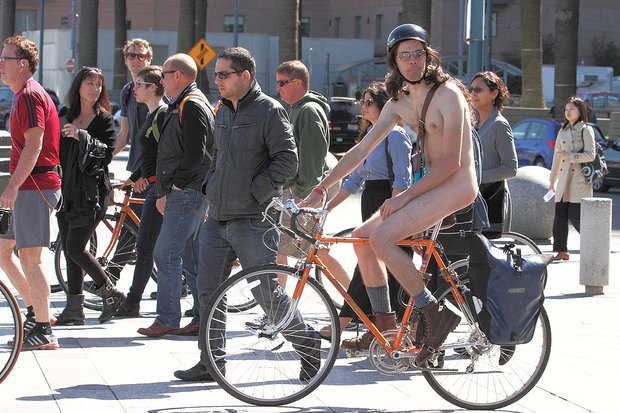 P'lovers Pedals for Earth Day – For those who like riding bikes, but prefer to remain clothed, P'lovers,  a local environmental store in Halifax, Canada is holding an indoor bike rally that started at 12:01 a.m. on Earth Day. Teams are taking turns riding a stationary bike at one of the company's stores to power the lights in the building. The Earth Day event aims to raise $12,000 needed to launch a Farm to School program that would provide healthy meals to a local school using food supplied by local farmers.
What did you do to celebrate Earth Day in your local community? If you missed the fashion shows and bike rides, it's as easy as picking some litter up off the ground.