As marketers, we know that one size doesn't fit all. When it comes to men, though, especially of the Millennial kind, it seems like nothing ever fits right. "Elusive creatures, they're commonly thought of as cord cutters who can't be – and don't want to be – reached," a recent Nielsen study stated. The Millennial male, said the study, has the unique combination of spending power and purchase influence, based on their power of persuasion over their Baby Boomer parents. No wonder marketers bend over backwards to reach this group.
Bending over is actually a smart way to reach Millennial men these days. I mean the yoga kind, where you shift from upward into downward dog. Breweries around the country have begun offering in-house yoga classes, and guys are flocking to the yoga mats. The Washington Post points out the "democratizing effect" of breweries that's appealing to beer yogis, which is much less intimidating than real yoga studios with "chic, toned ladies" and "hushed, Zen-like spaces." Beer and its house of worship, on the other hand, defy pretense and are "linked to laid-back leisure activities such as watching sports, grilling out and burping the alphabet."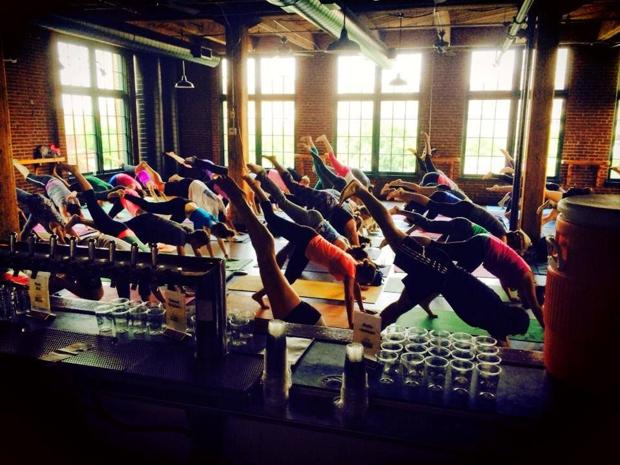 Still on the fence? Here are five compelling reasons to give hot hoppy yoga as a marketer a try:
Year-Round Engagement: Unlike sporting events such as Tough Mudder, partnering with a brewery gives you access to your target audience year-round.
Quality Time: Most brewery yoga classes come with a free pint after class. It's called Happy Hour for a reason. With a beer-in-hand, your target audience is much more likely to interact with your brand than on a street corner, during a festival, etc.
Revitalizing Effect: If you're trying to dust off your brand and make it more appealing to a younger target demographic, tying it to a relaxed Happy Hour atmosphere is one way to do so.
Two-for-One: Brewery yoga has more to offer than a high concentration of Millennial males: You reach women in the same age group with similar disposable income and influence. And couples, of course.
Custom Partnerships: Local breweries are eager to preserve the authentic feel of their customer experience. They go above and beyond to integrate partners into the overall experience with custom programs, minimizing the risk of annoying the patrons.
While alcohol and exercise are not the most obvious pairing, it's a winning combination to reach Millennial men. Maybe the key to engaging this audience is not so much to know their media consumption habits, but their drinking habits. Cheers!
Image credits: artgrl321a, Feast Magazine, Wynwood Brewing