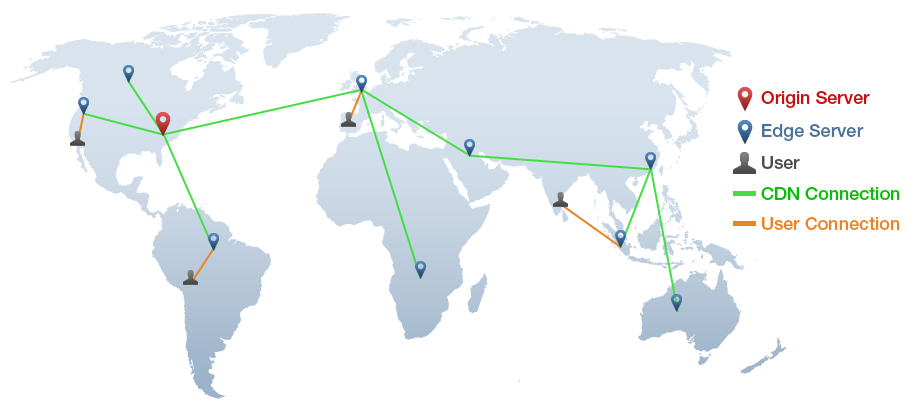 At it's core, a Content Delivery Network (CDN) is a network of servers across the globe used in an effort to create a fast loading website for site visitors worldwide. The connectivity and speed of a digital experience is an imperative business decision for a brand. Deploying a CDN will positively influence search rankings, aide in user experience and allow for international accessibility.
1. Better Search Rankings
Since 2010 Google has been using site speed as a ranking signal. Google does not release how big of an influence site speed has in it's ranking algorithms so it's really up to the search marketing community to measure, test and keep track of these signals. In a 2015 report, over 150 search marketing experts participated in a ranking factor survey and across the board page speed was noted as having a high influence on search rankings. Of those 150 experts, 58 percent of the survey respondents predict that site speed will continue to increase as a ranking signal over the next 12 months. In an effort to keep up with trends and knowing that the industry/Google is trending towards faster load times the use of a CDN is an easy win when focusing on site speed and rankings.


A more in-depth study done by Moz concludes that:
The back-end performance of a website directly impacts search engine ranking. The back end includes the web servers, their network connections, the use of CDNs, and the back-end application and database servers. Website owners should explore ways to improve their TTFB (time to first byte). This includes using CDNs, optimizing your application code, optimizing database queries, and ensuring you have fast and responsive web servers.
We can't say that the lack of CDN alone will cause a drop in rankings as their are 100's of factors that go into search rankings. We do know that site speed is important and will grow in importance as search evolves. As we attempt to future proof a site and focus on search engine traffic, the use of a CDN will only aide in those experiences.

2. Stronger User Experience
Both users and Google want sites to load in 2 seconds or less and a slow loading site will send wrong signals to users.

According to a case study from Radware, 51 percent of online shoppers in the U.S claimed if a site is too slow they will not complete a purchase.
Radware also discovered in another study that the demand for loading speed has increased over time. For example, in 2010 a page that took six seconds to load witnessed a -40 percent conversion hit. In 2014, that same loading time suffered a -50 percent conversion hit.
Research has found that 47 percent of web users expect a website to load in under two seconds.
During peak traffic times, 75 percent of consumers are willing to visit competitor sites instead of dealing with a slow loading page.
Besides making visitors happy, having a website that loads quickly is good for business. In fact, Strange Loop has stated that just "a one second delay can cost you 7 percent of sales."
3. Connect with International Users

Globally, 90 percent of the world's population is covered by 2G networks and 73 percent by 3G networks. Mobile devices are becoming increasingly popular, in some countries surpassing desktop use. Mobile subscriptions have surpassed 100 percent penetration in the Middle East and APAC (excluding China and India) regions, while penetration is close to 100 percent in China. Africa and India fall behind that level, but are still well above 50 percent penetration. Knowing that users want a fast loading site, a CDN will ensure that users with a slower connection (2G/3G) still receive an optimal experience as the data required to load the site will have less distance to travel as they'll be requesting files from a "local" server opposed to a server located in the United States.